Whose ready to party?!? I know I am :) So come join my Thirty-One Blog Party here!!
But first.... meet my party consultant, Kelly. Then don't miss the giveaway at the end of this post!
Thirty-One's CEO & Founder writes this about the company "Thirty-One" is more than just a company. We are people who believe in celebrating, encouraging, and rewarding others for who they are. Through God's strength, we've built a family of individuals who feel women deserve to treat themselves and those around them to something special. Our commitment is to provide women with a fulfilling, enjoyable and rewarding experience one person at a time." Thirty-One's mission is based on Proverbs 31. Thirty-One Gifts sells an amazing array of products for home organizational use, to purses and totes. Please look around and see what we have to offer!
If you came to a live party, you'd here about my WHY? What was my why for joining one of the fastest growing direct sales companies? For many, there why's are their children, being able to bless them by being at home with them and not in a job out of the home, for me, my why is that I love being able to celebrate the smallest moments in life, to encourage those around me to be stronger and better than the day before, and to reward everything we do, from the smallest to the largest moments. For me, it meant bringing groups of people together who may say that they don't have the time to sit down and enjoy each other's company. Each day is a gift that we need to enjoy!
I hope you will party with us by shopping
A Happy Wife In NOLA's party
. Some of my favorite items include the Large Utility Tote, the Cindy Tote, and the Thermal Lunch Bag! I can't imagine what my life was like before these items!
This months special is spend $35 dollars and then get a BRAND NEW Medium Utility Tote for only $5 (a $30 value!).
- Please use the
link
that is provided to A Happy Wife in NOLA's party.
- Click that you would like your order direct shipped for an additional $4.
- Remember that many items can be personalized with embroidery starting at an additional $7.
- The 31 Spirit collection can also be personalized with our collegiate line starting at an additional $15.
Want to join my team? Contact me for more information about joining the Thirty-One family. Interested in hosting a Thirty-One party and getting AWESOME hostess rewards? Drop me a line, I look forward to working with you!
If you have any questions, please feel free to e-mail me at
kelly.m.wilson@me.com
I'll get back to you as soon as possible!
There you have it ladies!! I have been having my eye on throwing a Thirty-One Gifts party for awhile. With the holidays already here, I couldn't think of a better time! So go visit my party by clicking
here
, look around and shop!! Buy gifts for yourself, sister, friend, daughter, mom.... the list goes on!
And one last thing..... Kelly is GIVING AWAY a Super Organizing Tote to one of my lucky readers... aka YOU!!! The tote is in the print "organic poppy" and has the phrase "Keep Calm Carry On" embroidered on the front!!! An awesome and cute tote that you can carry everything in!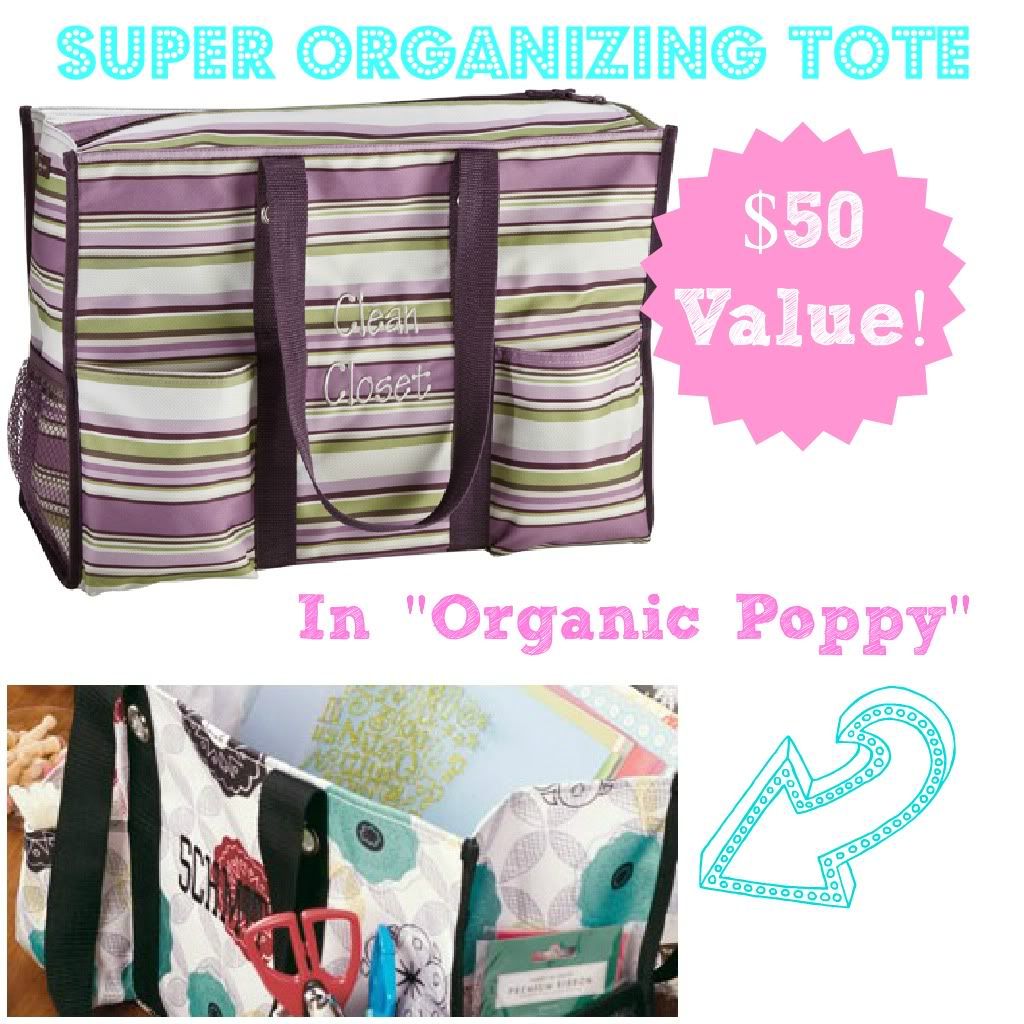 Thanks for visiting my party, hope you find some goods! And good luck with the giveaway!!
This post was brought to you by: