Happy Monday my favorite readers!!!! Hope y'all had a great weekend. I know I did! It was very exhausting but good!! Today is all about playing catch up. You see, I left my laptop at my office on Friday. And since I live 45 minutes away, I was not going back to get it. This weekend was computer free. And as much as I am attached to my computer... honestly it was a nice break. I did miss blogging dearly though and created a nice long list of things I need to do with my blog. So today I hope to start crossing things off my list!
#1 ::
October Group Sponsor Giveaway Winner
The lucky winner of this giveaway is...... Chelsea

from

Yours Truly!!!!! I am super excited for you Chelsea!! I, as well as my sponsors who participated will be emailing you shortly!! Congrats!
PS- For all of you who are wanting a new blog design, Chelsea is fabulous!! I may be a little bias... because she did mine :)
#2 ::
Blue Bird Bride Giveaway
Have you entered the awesome Blue Bird Bride giveaway on my blog yet?? What are you waiting for!! Enter a chance to win a $20 gift certificate to this incredible jewelry shop! I love Diane's work and you will to! Click here to enter the giveaway.
Also, you can get 15% off all purchases right now using the code: FALL2012. Shop at Blue Bird Bride today!
#3 :: Secret Santa Blogger Swap
Have you entered our Secret Santa Blogger Swap yet?!? I am hosting it, along with the lovely ladies from Geek Can Be Chic, Fierce Fabulous and Fit and Chronicles of a Sweet Tooth. Over 30 bloggers have signed up for this so far! If you are not one of them, enter today by clicking here!!
#4 :: Prayers for Hurricane Sandy Victims
I am keeping everyone who will be affected by Hurricane Sandy in my prayers. Being from New Orleans, I am far too use to Hurricanes. But for those who have not experienced a storm like this, I wish you the best of luck. I wouldn't wish this on anyone and am praying for everyone's safety, homes and livelihoods.
#5 :: Wedding Wednesday Co-Hosts and Questions :)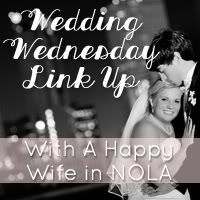 I recently announced that Wedding Wednesdays with A Happy Wife in NOLA will now become a link up party!! While I will post more about it later, here are the basics:
* Link up any wedding-related post on your blog.
* This can be a favorite post of yours previously written or a new post.
* Anything wedding related! Wedding planning, your own wedding recaps, a wedding you were in, a wedding you attended, bridal showers, engagement stories, honeymoons, etc... You get the picture.
* Link up a different post each time you link up.
So there you have the basics.... but now I have some questions for you.
#1 - Wedding Wednesdays happen every Wednesday. However, would you like the link up party to be weekly, 2 times a month or once a month? How often would you like to participate?!?

* Please answer by leaving a comment to this post.

THANK YOU!!
#2 - I am looking for Wedding Wednesday co-hosts :)
Here is the information for those interested:
* Right now, you do not need to be a sponsor of my blog to co-host Wedding Wednesdays. I simply ask that you post the link-up on your blog the day it goes live.
* I am only taking 2 co-hosts per link up day.
* If you sign up, I will e-mail you what day you will be co-hosting.
* You are able to co-host more than once, if everyone else listed already got a chance.
* It will be mandatory for all link up party participants to follow the co-hosts via GFC.
* I ask that co-hosts please do a few social media shout outs to the link up party.
* Co-hosts will help me spread the Wedding Wednesday fun and I hope that it will bring lots of new traffic to your blog.
* Have a shop with Wedding related items? This would be a great way to show it off and drive traffice your way!
* Wedding Wednesday post received the most comments and traffic on my blog! Great exposure for you!
Sound good??? I hope so!! If you are interested, please fill out the questionnaire below!
Sill have questions? Please don't hesitate to e-mail me at rollingontheriverinheels@gmail.com.
This post was brought to you by: