I've been thinking for awhile that I want to start a "Wedding Wednesday" post trend on my blog. Event planning is part of my job but my heart is with weddings. My dream is to one day have my own wedding planning business. So I'm going to do a wedding post every Wednesday (or every-other depending on the weekly schedule and feedback), starting today. I hope to continue to grow in knowledge with this business and inspire brides-to-be out there. One day, I will fulfill my ultimate career goal!
So where does the wedding planning process begin? With the proposal! Every single proposal is special and perfect in it's own way. What a beautiful moment, when two people decide that they want to spend the rest of their lives together. So without further ado, here is our story :)
Three big events were happening back-to-back weekends in February 2010 - The Saints going to the
Superbowl
,
Valentines Day
and of course...
Mardi Gras
!! So Edward had planned a hiking trip to Tunica Hills (just between the Louisiana/Mississippi border) to do an early Valentines Day celebration before all the other fun things began. We had been talking about doing this for a while so I was super excited. We agreed to not buy presents because we had just splurged on Christmas and our 4 year dating anniversary. Instead, we bought some nice champagne, cheese/crackers and made chocolate covered strawberries to enjoy when we reached the "waterfalls". The forecast for the weekend kept getting colder and colder as Saturday got closer.... Everyday I asked him, "The high is now
only 32 degrees
(which is SUPER cold for us southerners), are you sure you want to go this weekend?" Of course he insisted and I thought nothing of if it because he (and myself) are extremely stubborn.
The morning of Saturday, February 6th, we drove an hour northeast of Baton Rouge to the Tunica Hills hiking area. It was
COLD
. That wasn't going to run our day though. We hiked and hiked and hiked.... trying to find these "waterfalls" we heard about.... (Waterfalls in Louisiana? Crazy I know.)
Tunica Hills..... doesn't look like Louisiana, does it? FYI- it is much prettier in the spring :)
My excited but very nervous "still" boyfriend at the beginning of our adventure.
Yours truly! Feeling adventurous and completely oblivious to what was about to happen.

We found a waterfall! But apparently not the "big one"....
Edward made me hike through this.... we learned quickly that there was quick sand!!!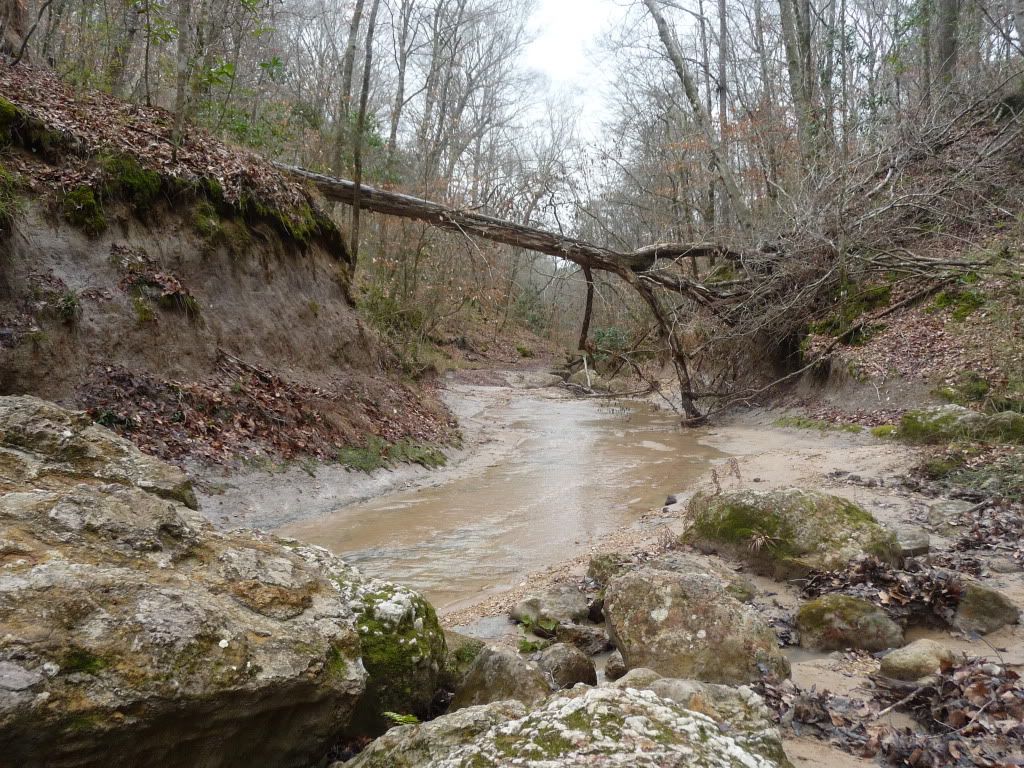 And walk over these slippery rocks.... I fell. Of course.
Finally.... we made it!!!!
Yes.... that was the "big" waterfall! I know it looks slightly sketchy.... but it was actually really beautiful, quite, peaceful..... perfect :) See the area in the bottom right of the picture? That's where we stopped for champagne and our snacks! As I was eating a chocolate covered strawberry, Edward said he had a few presents for me. I was not very happy since we had agreed no presents! After saying not to worry because they were "small" presents, he pulled out a cute little heart-shaped box of chocolates and a small bear holding an "I love You" balloon out of his bag. He further went on to say he wrote me a letter, which is something we do every anniversary, Christmas, Valentine's Day etc... so I wasn't very shocked by this. But what DID throw me off was when he started reading the letter to me! That was not a normal custom.
Edward "professed his love for me". Telling me how much he wanted to take care of me for the rest of my life. How he thinks I am going to be the best mother to our children. The whole nine yards!! I must admit that I was having a hard time hearing him... I know that waterfall was small but it was loud and distracting! It wasn't until he pulled a small box out of his bag and got down on one knee when I realized that his was all part of his proposal!!! After he ended with, "Make me the happiest man alive...
will you marry me
?" I said "
yes, yes yes, a thousand times yes
!"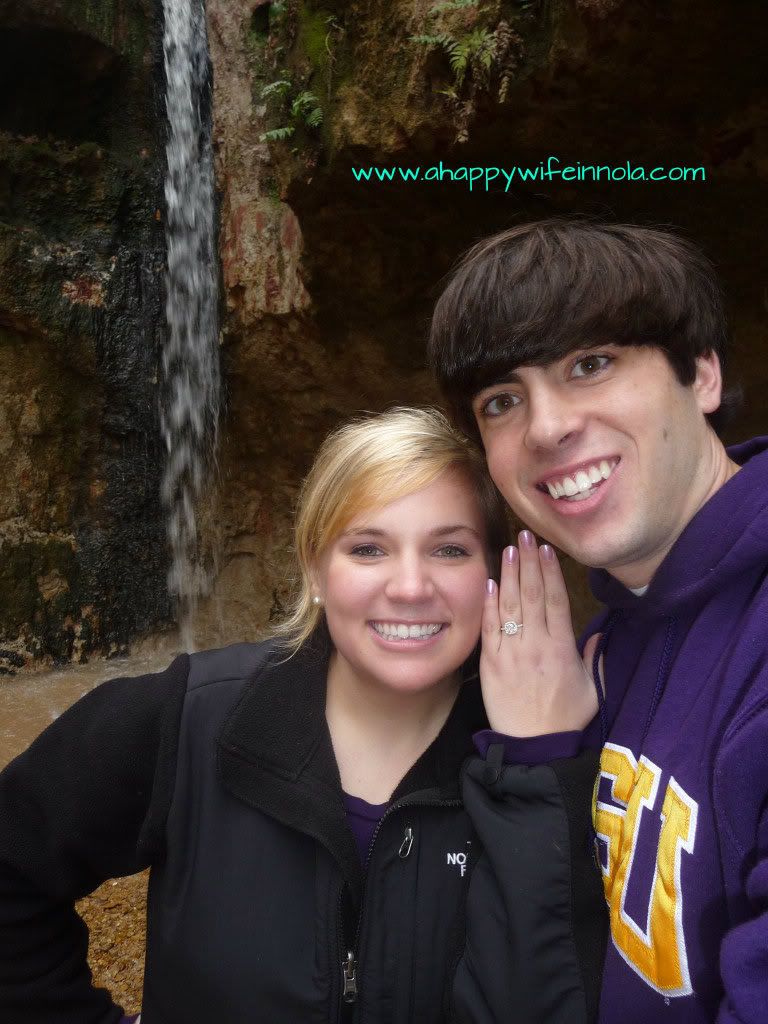 That night we shared the news with our family. And to tie the whole weekend together.... making this the best weekend EVER..... The next day we went to our friends balcony on Bourbon Street, shocked all our friends with the news..... and
The view of Bourbon Street from our balcony
The New Orleans Saints WON THE SUPERBOWL!!!!!!!!!!!!!
Best. Weekend. Ever. Until we got married that is ;)