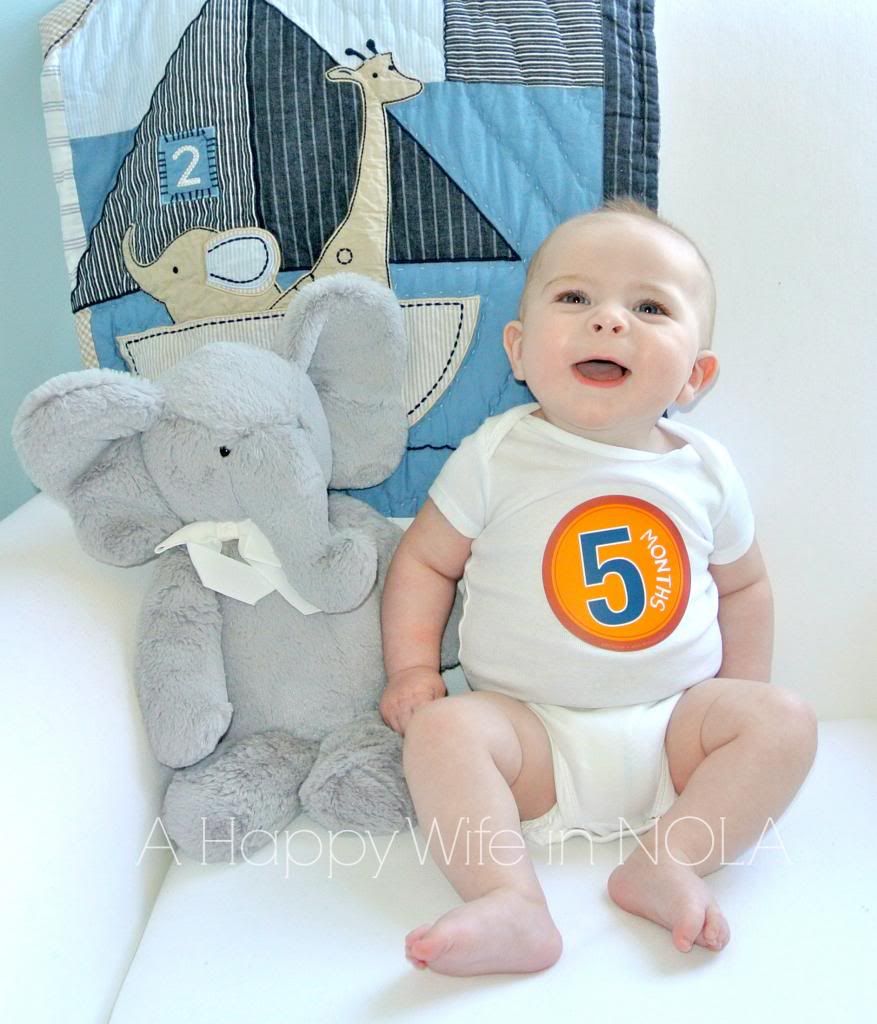 It's been awhile since I've done a post on my little man... And I guess this is the time to do since he turned five months on 1.20.14... which means he turns SIX MONTHS tomorrow! Let's just say this mama is not handling well how fast he is growing. With that being said, this past month has been the best yet! Let's do a review of Edward's beautiful fifth month of life, including admiring his cute little face! (The pictures were actually taken shortly after he turned 5 months old. Unlike how long it has taken me to write this post...)
STATS:

We didn't go to the doctor this month but jumping on our scale, we estimate Edward was about 15lbs in the beginning of his 5th month. He's seems to have grown A LOT in height and weight this month so I'm excited to see his new stats when we go to the doctor on 3/7. He has started to get the little belly and thunder thighs but it looks like he carries most of his weight in his cheeks :)
HEALTH: V is healthy as can be! He had a little cold that lasted a few days in January but with a humidifier in every room, it went away quickly. Unfortunately, he still suffers from severe reflux but I am happy to report that we have seen MAJOR improvements this month! He had been on Zantac since 4 weeks old and we weened him off this month to see how he was doing on his own. Honestly, we didn't notice his reflux was any worse without the medicine. The doctor calls him a "happy spitter" because it does not hurt him when he throws up. He used to cry during his feedings and when spitting but the medicine definitely helped with that. Fingers crossed it only keeps improving!
DIET:

Edward is on a formula/rice cereal mix. We introduced the rice cereal in his bottle per his doctor to see if it helped with his reflux, and it definitely has! I think it is also a huge contribution to his weight gain this month as well. That's okay, because I love his big cheeks! It looks like in two weeks we will start solid foods after his 6 month check up and I am very excited about that! I must admit that I still struggle with the fact that Edward stopped breastfeeding/ I stopped producing so early.... I just focus on the fact that he is healthy and hopefully the next baby will be different!
CLOTHES: He fits in quite the variety of sizes right now... For the most part he is wearing 6 months although he still has a decent amount of 3 month outfits that he can still fit in. 9 months and 6-12 months fit but are still a little baggy and/or long. I love dressing my little man. I still can't wear the clothes I want to so I put all my styling fun into V's wardrobe. I also just started the hashtag #edwardswardrobe on IG if you want to check out some of my favorites!
TEMPERAMENT & PERSONALITY: Edward is quite the happy little fella! He is always flashing his big smile and loves to laugh. Overall, he is calm and very easy going. He does like to be in the room with someone all the time but does well playing by himself when mommy is busy. He will shed a tear once in awhile but it's mostly when he is either way too bored, hungry or really tired. He is happy and so so FUN! He also still loves to snuggle and I couldn't be happier about that.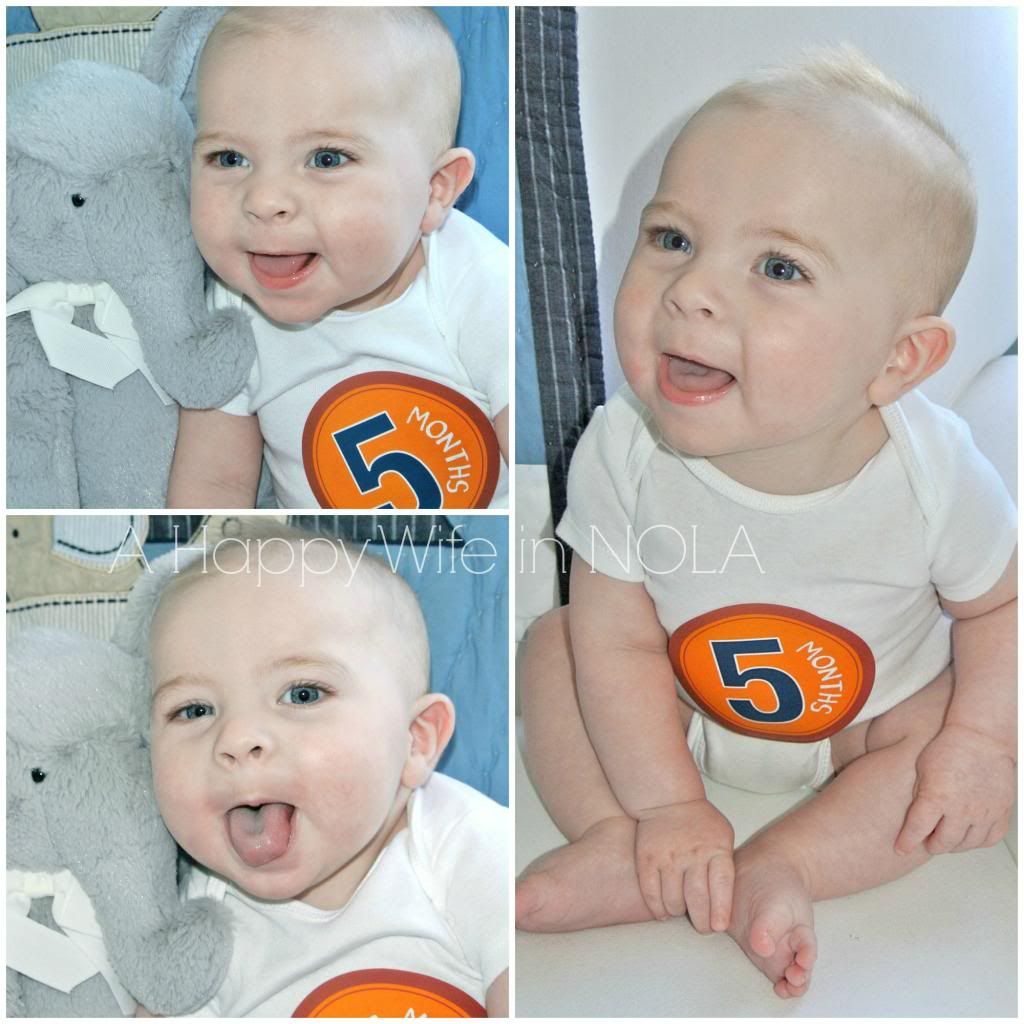 SLEEP:

We have definitely backtracked in the sleep department. He used to sleep for 9 hours straight and has since gone back to waking up several, if not a dozen, times a night. The past few days have been a little better so I'm hoping he is getting over that. Putting him back to sleep is easy though when he does wake... usually just requires a little back rub and putting the pacifier back in his mouth and he falls right back asleep. It's just a pain to wake up and walk across the hall several times throughout the night, haha. Oh the sacrifices we parents makes ;)
MILESTONES:

V has had several very big milestones in his fifth month... He can now sit up by himself! He loves sitting and playing with his toys like a big boy. He also rolls all over the room and is starting to attempt an army crawl when he is really determined to get a toy he wants. His third big milestone is that he can stand up without my help, while holding onto something for balance! I think this last one put me over the top. It started one day when Eddie was playing with Edward and had him try to stand up, holding onto his crib. Imagine my shock when I walked him his nursery and saw that! Mommy definitely shed some tears! He has me busy all the time and I know I'll be chasing him before I know it!
FAVORITES

: V is spoiled and has lots of toys to play with. Among them, his favorites are his ExerSaucer, Jacques the Peacock ( a Lamaze toy), Manhattan Toy Skwish and of course, the Wubbanub. He absolutely loves being outside and our daily walks. There are very few things he would rather do than be pushed around outside in his stroller. He is obsessed with his feet. He wants to know everything that is going on and is quite the little nosey one. He loves lights and pretty much anything that moves. And he loves, loves, loves new making noises. Right now his favorite noise to make sounds like a dinosaur.... sometimes a dying dino. Not mom's favorite but baby likes it so I guess it's music to my ears.
POSTPARTUM:

I have definitely had my ups and downs. Emotionally I am doing great for the most part. As previously mentioned, I still struggle with the fact that I am no longer breastfeeding but it is getting better. My weight has fluctuated... I am 2lbs away from my pre-pregnancy weight. However, I had hit this mark back in October after he was only 2 months old. Going back to work and then an unexpected job change put me in the slumps but I'm back on track. I'm walking everyday and running 3-4 days a week. I also started making "green smoothies" for one meal a day and they really make me feel good! Overall, I am doing better everyday!
That's what the fifth month has brought us! I can't wait to see what six months has in store! As much as it saddens me to see Edward grow so fast, each day is more fun than the last. Each day he does something new to make my heart melt more. And each day, when I didn't know it was possible to love him more than I did yesterday, my heart surprises me and I love him even more :)